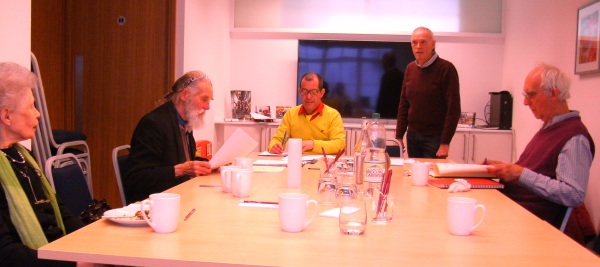 The 2014 competition has been our most popular so far and there was, as has been the case in each year of the competition, a significant increase in the number of entries over the previous year.  We are very grateful to all those who took the time and effort to enter and which has made this competition, once more, such a great international success.
The jury for the 2014 ACO composition competition meeeting at the
headquarters of the Incorporated Society of Musicians to finalise
the adjudication of the 109 scores submitted for the Musique sans Frontières competition. 
The ACO encourages participation from composers of all ages, nationalities and abilities and is delighted with the wide age range who took part from teenagers up to past retirement age in 2014. Equally eager to espouse equal opportunites criteria, women were increasingly represented Internationally, with entries ranging from the United Kingdom, to North America, Europe and the Far East but also from the Middle East and South America.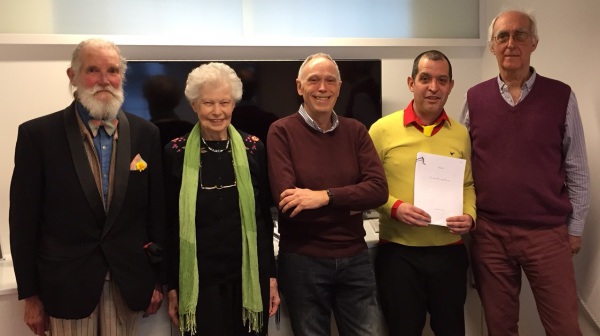 Juror Richard Stoker, invigilator Audrey Ellison,
administrator Trevor Huntley, chairman Geoffrey Alvarez,
juror Giles Swayne with the winning score
Le voci dell'aria by Massimo Lauricella.